Planning blunders in the Gardens of Stone reserve replaced open and transparent park management with planning by media release and backroom deals in the lead up to the NSW election in March 2023.
There are better tourism solutions for the reserve and the community, ones that don't grant commercial leases to the big operators. These outcomes place reserve management for nature conservation first, and was outlined by conservation groups in Destination Pagoda, a plan designed to benefit Lithgow as the gateway to the reserve. 
The spectacular natural heritage of Gardens of Stone State Conservation Area must not become  an amusement park with accommodation hubs in remote bushland, supported by a so-called Great Walk . What the Government should be doing is establishing effective environmental management and protecting nationally endangered swamps in the reserve.
Take action - write to the Minister for the Environment
The Minns Government has thrown out the public consultation "Christmas special" for two commerical leases in the reserve (see notice below and conservation group submissions at page bottom). The parent company behind both proposals, is the same company that plans to develop high-end accommodation in the Tasmanian Wilderness World Heritage Area. The "Wollemi Great Walk," that appeared as a thought bubble in the ineffectual Gardens of Stone Master Plan, should also be thrown out.
The lease consultation was a sham, with no specific details on the proposed four accommodation resorts and the Lost City adventure theme park near Lithgow. The leasing process is also a developer's dream. Experience Co gets exclusive possession of park development sites before its proposals are determined, pre-empting the planning process. If or when the developments are approved, then the NSW Government's multi-million dollar infrastructure subsidies, in the form of a Great Walk, then flow.
The impacts on the natural and cultural heritage of the reserve of the three proposed resorts will be large, as intact, remote, and scenic parts of the Gardens of Stone State Conservation Area are flagged for resort development. These three proposed resorts siphons off the highest paying tourists who might have otherwise spent their money in the local community.
The other proposal, is for the Lost City Adventure Precinct. It includes ziplines, toilets, carparks, elevated walkways/suspension bridges, via ferrata climbs and possibly a food outlet that will cause visual blight over Lithgow's most scenic pagoda landscape. As a result, it denies the local community a chance to establish a scenic lookout as good as Echo Point, Katoomba. The Lost City location also may put children at risk as Marrangaroo Military Base that uses live ammunition and ordinance is only 400 metres away.
The Lost City theme park location will ensure most visitors go to the adventure park not Lithgow as they enter the reserve from Clarence via the Old Bells Line of Road, so again the local community will gain little benefit from the proposed development.
Take action - write to the Minister for the Environment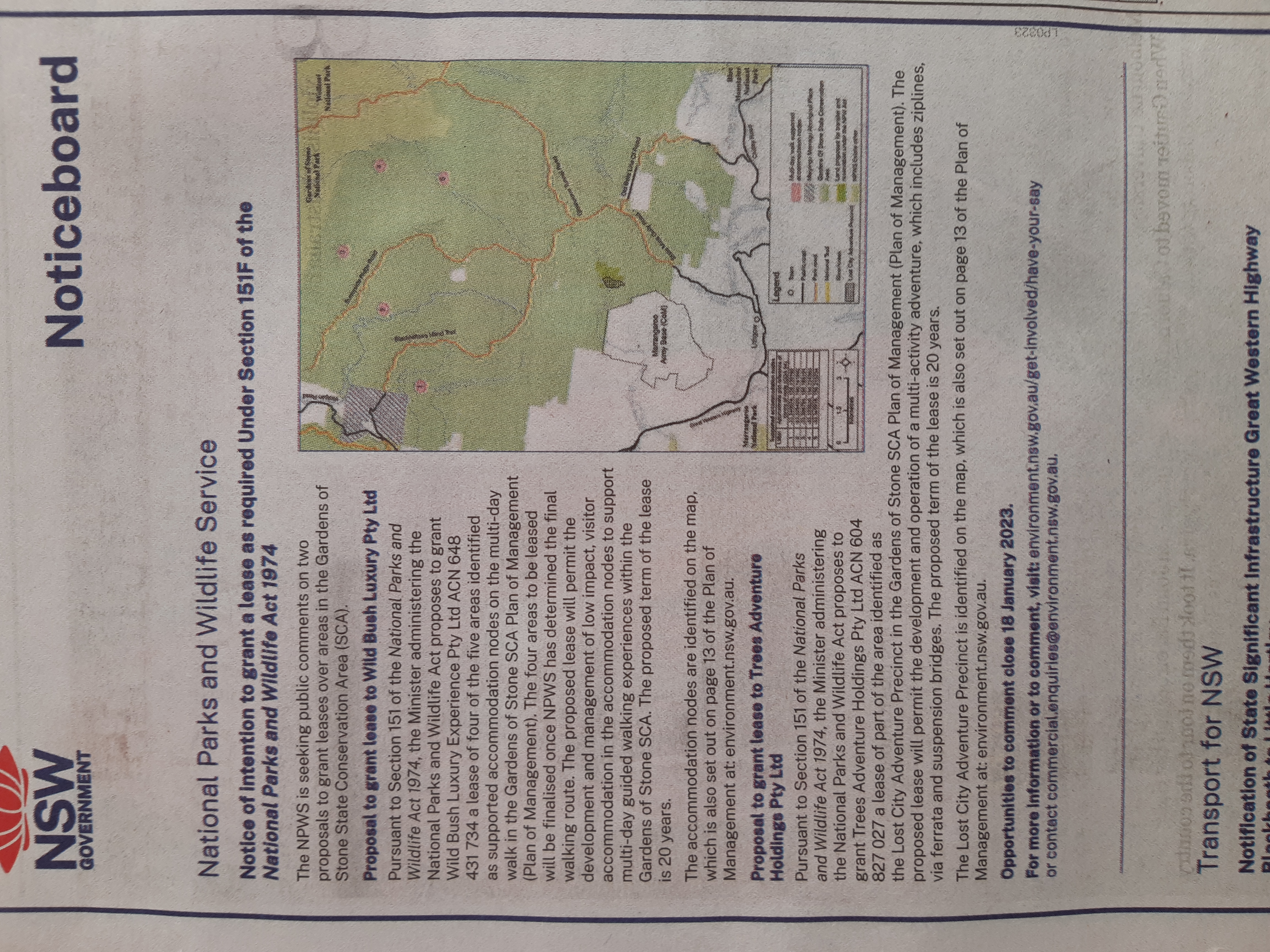 As you can see, there was no substantial information to comment on in public exhibition for the leases